Jennifer Ciraulo is the founder and creator of Blooming Lotus Malas and in the last 5 years her world has seen a drastic change. She called off her own wedding in 2012 before running off to Bali for her personal Eat, Pray, Love experience. She started her own mala bead company and eventually became so successful that she needed to quit her job as a pediatric occupational therapist. She has since grown her team of one (herself) to include an assistant and a small production team that assists her in this beautiful venture. I was honored to sit down with Jennifer and discuss Blooming Lotus.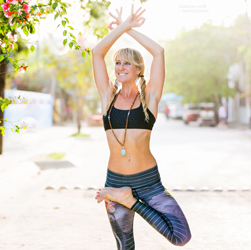 1. How did Blooming Lotus start?
A friend of mine asked me to make her a custom necklace. I was happy to create it for her and sometime soon after, another friend asked me to make all of her bridesmaids necklaces. It started to spiral in that way with each bridesmaid grabbing me for her own wedding months down the line and I loved creating these pieces while still working as an occupational therapist.
At some point I was getting deeper in my yoga practice and at the same time I was experimenting with hand stamping. I created a stamp that said "follow your bliss" and paired it with gemstones that had significant meaning. The more I started looking into the meaning of the stones I was working with and the hand stamps, the deeper into making inspiring jewelry I got. I used OM, Hamsa and Buddha on my inspired necklaces and bracelets.
One day I decided to create a set of 108 mala beads. My first one took me an hour and a half and I've never looked back!
2. How long have you been doing this full time, and how did you start that piece of your journey?
I'm not sure my intention was to create a big scale company (at first), but the world works in mysterious ways & serendipity has always been at play here at Blooming Lotus. In 2012 I was contacted by the powers that be at Wanderlust to make 3,000 wrist malas and that's what really set things in motion. In the years since I have been featured in Yoga Journal and various other publications while continuously finding serendipitous moments and opportunities to grab.
By August 2013 I had quit my full-time job and began working on Blooming Lotus full time. I just hired an assistant a few months back; I was a one woman show for two full years. Every order that came through had me behind the scenes filling it.
3. That's amazing! Wanderlust is such a huge name in the yoga world, but you didn't stop there. Tell me a little bit about Health Magazine. I saw you were featured there in October.
Yes I was! I make it my mission to give back and the mala bracelet featured in Health is only available from September-November each year. $8 of each bracelet goes to breast cancer. Year round 5% of my proceeds goes towards supporting children cancer research & autism awareness. I was honored to be featured in Health Magazine and even happier that I was spreading awareness and making a difference with my jewelry.

4. How long have you been practicing yoga?
I've been practicing for 8 years and it has certainly assisted me in the mala bead journey (and in life). After calling off my wedding in 2012, yoga helped lift me up. I went on my own Eat, Pray, Love adventure when I traveled solo and to this day it has been the best trip I've ever taken. Yoga was a huge part of that experience and is a huge part of my business & everyday life.
5. If you could tell your pre-yoga self anything, what would it be? 
You are stronger than you think you are, literally and figuratively. A lot has changed over the past 5-10 years. There have been many challenges and ups and downs. Looking back I realize how much I've grown and how strong I truly am. I have had a complete career change and started my own business, called off my wedding in 2012 and trusted I could find love again (and I did!!), traveled across the world solo to Bali, then to India to challenge and inspire myself. I've grown so much and appreciate all I've gone through that's brought me to where I am today.
And also: slow down. Yoga is my time to slow it down, quiet my mind and move slowly.  I always feel like I'm doing something and in go, go, go mode. Whether it's on or off my mat, those quiet moments are important to keeping my life in balance.
6. What's your favorite quote at the moment?
"The key to success is start before you're ready."  – Marie Forleo. This one has been my personal favorite for a while since I never feel like I'm ready!
7. Do you have any advice for someone who wants to conquer their dreams?
Start small. It can get overwhelming at times to look at this big dream we may have.  Questioning how we will get there, where do I even start, is it even possible?  You'll never know unless you try. Sometimes we look at the ultimate goal and feel lost on how to get there, but if you chip away at that big goal by accomplishing the smaller goals, you'll make headway.  You'll look back and realize just how far you've come. Taking small chances and putting yourself out there may indeed result in failure, but what happens if it doesn't? What happens if you succeed? You're one step closer to your dream. And if you fail? You'll get right back up again and learn from it. Celebrate the successes and learn from the failures. Being an entrepreneur isn't easy but it's worth it!
8. So much of your story relies on serendipity, perfect timing and connection. What's your biggest piece of advice for someone just starting out?
Believe in yourself. You can wish all you want, meditate on it all day long, and work 24/7 but if you don't believe in yourself, nothing will work. And if others don't believe in you, let that fire you up even more to make it happen. It's your dream, not theirs.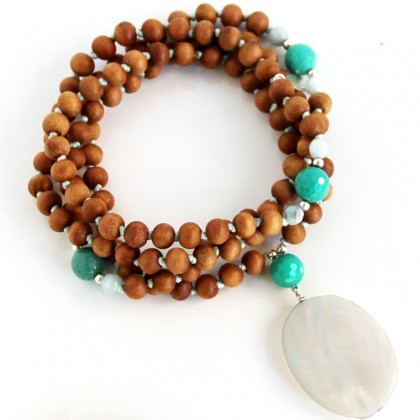 Thank you so much for taking time to connect with me. When I opened my mail last week to receive the
Take Me to the Sea Mala
,
SUP mala bracelet
and my 3 month old sons
black onyx mala
I was in awe. You packaging, presentation, attention to detail and loving care in my package was beyond anything I could've imagined. I love Blooming Lotus and hope to see you grow even bigger than you've ever imagined. Check out
Blooming Lotus
for your own mala, custom piece or mala stack!

Although I have received a set of mala beads as a gift, this is not a sponsored post. I have bought from Blooming Lotus before and adore the company. I want to spread the love this holiday season and show Jen's goodness off to the world.